The Do's and Don'ts of Writing Knowledge Base Articles
8 min read
Nov 23, 2022
If you work on a support team that uses a knowledge base, then creating, sharing, and updating help content is probably your bread and butter. A help article, in order to be effective, needs to tick a few boxes. After all, they are supposed to be a quick solution for customers in search of answers, and a time saver for your customer support team.
Read on for the do's and don'ts of creating knowledge base articles that deliver fast solutions.
What is a knowledge base?
A knowledge base is a collection of organized information and resources. The knowledge inside can range from product manuals, technical support articles, company policies, or FAQs, to onboarding materials, and help articles for customers.
In most cases, you can set up a knowledge base using a knowledge base software which allows easy storage, organization, and the maintenance of knowledge.
It's particularly popular among online businesses with an online presence where three use cases dominate:
Providing customers with self service support
Improving the efficiency of a support team
Organizing company knowledge
All in all, a knowledge base software can greatly improve customer experience. On one hand, customers get a better experience, because they can find answers in a help center that's open day and night, so they don't have to experience all the hiccups connected to chatting with an agent. On the other hand, agents can provide customers with comprehensive solutions much faster as all the information is ready-made and close at hand.
If you're looking for an easy way to organize and share your knowledge, try KnowledgeBase. You can use it to create a knowledge base, manage articles, and create both and external help center and internal knowledge base, making it easy for your customers and employees to find the information they need.
You can try it for free for 14 days.
What is a knowledge base article and what is it used for?
A knowledge base article is a written document about a specific, business-related topic. It can be connected to a product, a service, a company policy, frequently asked questions, and any other topic worth wider attention.
The purpose of an article is to provide an explanation. It should provide a reader with valuable information, solutions, or tips that fill a knowledge gap.
How to write a good knowledge base article?
Once you have your knowledge base up and running, it is time to fill it up with knowledge. Writing a good knowledge base article is not rocket science, but you need to remember about a few things.
Here are six tips for creating a great knowledge base article.
Know what to write about
Knowledge base articles only make sense only if someone reads them. Writing an article without researching the actual need for it is a waste of time, because it just won't help anyone.
To avoid such a waste of time, effort, and money, you can delve into the analytics inside your knowledge base software. Most of them usually have a section with top views and top missed queries. There you go. Missed queries are one of the surefire ways to get an idea of a topic that will be of help to your customers.
Use a clear, concise writing style that is easy to understand
When writing knowledge base articles, it's important to keep a concise style that is easy to understand. This means avoiding industry jargon or overly technical language which might be unfamiliar to a reader. It can only result in an unhappy customer.
It's best to stick to the ELI5-like explanations. Establish a clear tone of voice and stick to it throughout your all articles. This will keep your knowledge base consistent.
Make your article readable and scannable
People on the internet don't read anymore. They scan.
This is something you should always keep in mind when writing any content. This requires writers to design their text in a way that is easy to read, or rather scan.
Break up your text with headings, images, videos, or lists. Including visuals can make the article more appealing and easy to scan, improving the overall customer experience.
Avoid lengthy paragraphs. Keep them short and simple. Four or five sentences in a paragraph is fine, but more than this and a reader sees a wall of text.
Consider including:
Steps
Sections with tips
Colored boxes
Images
Videos
GIFs
Tables
Bulleted or numbered lists
When it comes to sentence readability, it's best to use simple language and short sentences, so a reader can quickly get the gist.
Such a reader-friendly article will help your customers solve their problems faster.
Add related reads
Help your readers get a better understanding of a topic by adding links to additional, extended reads.
Don't expect your reader to get acquainted with an entire subject in your article. They just need a quick solution.
A good way out of this is to give your readers a choice and provide them with links to other relevant reads they might, or might not, find interesting.
Make sure your article is up-to-date
One important tip for creating a great knowledge base article is to make sure it is always accurate and up-to-date. This not only helps to provide the most useful information to customers, but also reflects well on your brand and customer support team.
Regularly checking for new information related to the topic of the article will ensure that it remains accurate. You can set up a reminder to periodically review the article.
Create a clickable table of contents
If you're writing something lengthier, you can still make it readable for a reader. To do so, you should create a clickable table of contents.
Readers can easily navigate through your text and quickly jump to the part that interests them the most. They don't have to scan through an entire text to find what they need.

Creating such a table of contents actually also makes sense for shorter articles. It's always easier to direct a reader to what they need.
Proofread your work before publishing
Last but not least, it's always important to double check your work before publishing. Ideally, you should have someone else have a look at your text. Some smart and handsome.
This not only ensures your text is grammatically correct, but also helps to improve readability. Another pair of eyes might have additional suggestions for improvements, too.
A refined article reflects positively on your company and improves overall customer satisfaction.
An example of a knowledge base article
Let's have a look at this help article from Buffer.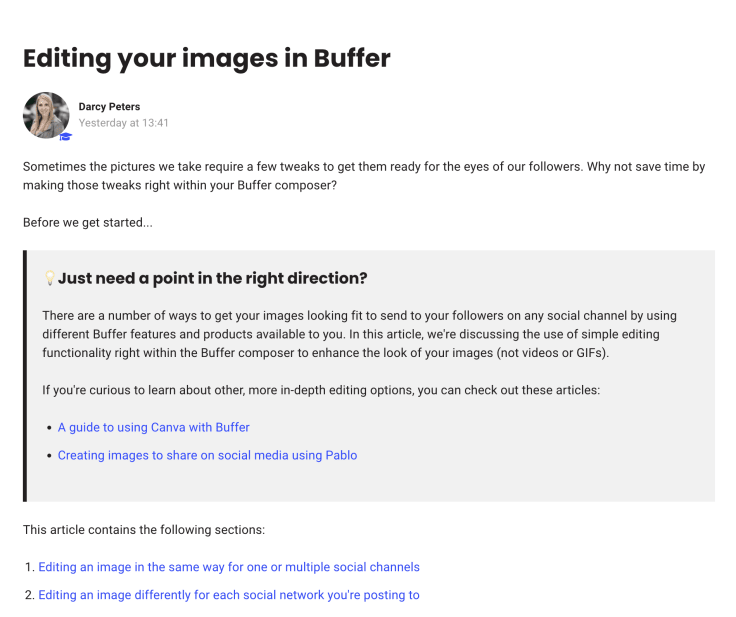 Right from the beginning, we get a title, we see the author, and the date of publication, or the last update. It gives us an impression that Buffer keeps their knowledge base up to date.
Then, there's a short introduction that clearly explains what the article is about.
Next, there's a section for more advanced readers who might prefer editing with Canva and Pablo. Thanks to this section, we can jump to what we need without doing an additional search.
After this section, we get a clickable table of contents which helps us navigate. It indicates what the article is about and lets us quickly move to the bit that interests us the most.
The gist of this help article is a step-by-step guide to editing photos in Buffer. Each step is highlighted with a blue design, so it's easy to follow. `The instructions are brief and supplemented with an image we can zoom in. All of this favors good readability.
The help article also contains notes that give broader explanations of particular functionalities, or a step.
Buffer's help articles are readable, informative, and well designed. Don't hesitate to get inspired by their content. It's a good example to follow.
How to promote your knowledge base articles?
Publishing your help article is half the battle.
Now you should make sure that your article is visible and used.
Share it with your team
When it comes to promoting your internal knowledge base articles, make sure all necessary employees have access to the internal knowledge base. Consider reaching out to specific departments or teams that would benefit from an article and share it directly with them.
Help your customers find what they need
When it comes to sharing your knowledge base articles with customers, there's a few ways to do so.
Social media
If your business is active on social media, make sure you publish a post that will promote the new publication in your help center.
Email
You can send out a newsletter to your customer base and let them know about a new knowledge base article.
Homepage of your knowledge base
Some knowledge bases have a separate "Recently added" section which is a great place to showcase newly released articles.
Are you looking for a knowledge base?
Providing a self-service option for your customers helps to reduce the number of support requests. Your team can focus on more important tasks and doesn't have to bother with the same questions over and over again.
At the same time, a knowledge base with articles is faster than chatting with support agents. Your customers get instant answers and don't have to worry about slow response times.
Here you can have a look at how the editor inside KnowledgeBase works:
If you don't already use a knowledge base as part of your customer support strategy, it's good to consider it now. Check out our KnowledgeBase free trial and see how easy it is to build your knowledge base and write better knowledge base articles.